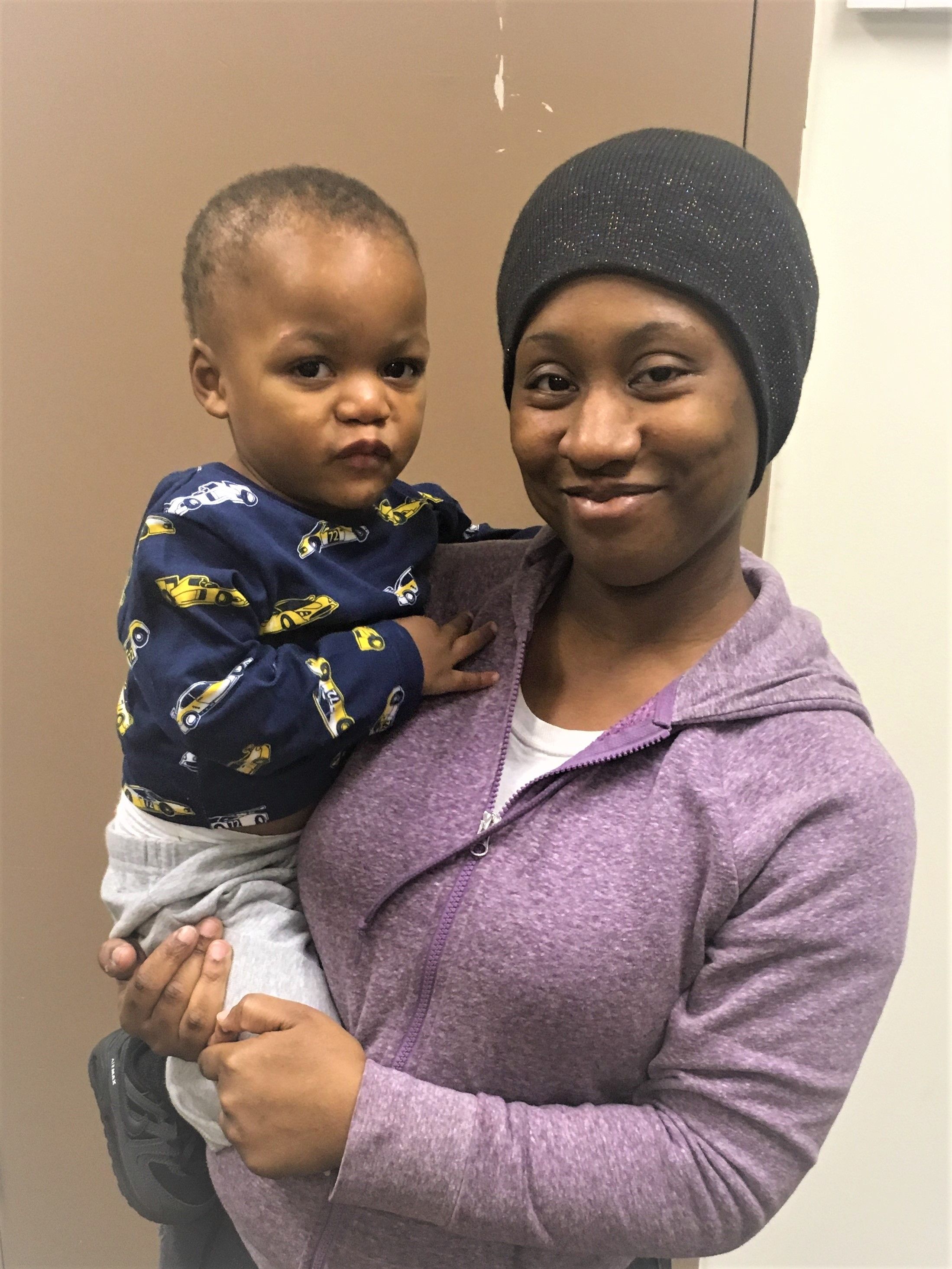 If you live or work in downtown Birmingham, you've likely seen Jasmine pushing a double stroller filled with children up and down the city streets. Every day, she walks her oldest child across downtown to kindergarten at Phillips Academy, with the four younger ones in tow. The family has lived in Pathways' Stepping Stones shelter since June. They have been without a home of their own for nearly 2 years. Jasmine shares her story today with the hope that she can help Pathways supporters understand the impact a free childcare program will make in the lives of families experiencing homelessness.
Jasmine's Homelessness Story
Jasmine is 26 years old, and she has five children – 4 boys and one girl. The oldest, Cameron, will soon turn 7.  Then come her 6-year-old daughter, her 3-year-old son, and finally, 2-year-old twin boys, Landon and Logan.
Jasmine struggled to find affordable childcare even before becoming homeless. Though her love for all her children is obvious, she confesses that she cried when she found out she was pregnant with twins. It was already difficult to keep up with the rent on her apartment, and adding two more mouths to feed was the final straw.
Shortly after the twins were born, Jasmine lost her job, and then her car. Finally, the family was evicted from their apartment. They moved in with Jasmine's mother while the older children finished out the school year, but with so many people in one space, Jasmine says that arrangement "didn't work out too well." When school let out, she took her children to a local emergency shelter. From there, they were quickly referred to Pathways' new Stepping Stones program, where a family bedroom had just opened up.
Family Life in Pathways' Shelter
Jasmine and her children have been in Stepping Stones for six months now, and Jasmine says it has been a good experience – better than in previous shelters, where she felt like other adults disliked having children around, or believed they should be "seen and not heard." Because Stepping Stones residents have their own bedrooms, common area, and bathroom, it's a more homelike environment. Yet being in a shelter is still hard for them – for the little twins, who have been homeless for almost all of their lives, and for the older kids, who remember what it was like to have their own space to run and play.
With a smile, Jasmine describes each child's personality, "Cameron, my oldest, is very hyperactive but he is a go-getter. I call him my boss man because he makes everything happen the way it's supposed to. My daughter is the only girl, so she's a diva, and she runs the whole family, I promise. My three year old is the athlete; he's going to do football or hockey or something. And the twins…I'm still trying to see what they're going to do. I call them the prosecutor and the judge because they are very interesting. Especially Logan, he's going to be a prosecutor or something…He is so mean."
It's not unusual for children raised in homelessness, like the twins, to be more serious and grown-up than other children their age. Jasmine says being in shelters has taught all the kids "to follow rules – for real," as they must obey not only her rules but also the rules and responsibilities given by the shelter. Sadly, homelessness often forces children to grow up too soon.
Looking to the Future
While Cameron goes to school, and Jasmine has a voucher to send her daughter and 3-year-old son to daycare, the twins do not have consistent childcare. When asked how a childcare center at Pathways would help her, Jasmine says "It would be easier because I would know my children would be here. I wouldn't have to worry about getting them to school or finding someone to stay with them to go to work. They would have more space to be kids."
Pathways plans to open a child development center in the upstairs of our building in 2020 in order to better serve mothers like Jasmine. The center will be available to any homeless child, age birth to 5, from their first day homeless. It will be designed to meet the specific needs of homeless children and offered at no charge to their families. To learn more about Pathways' childcare program, click here.
Since coming to Stepping Stones, Jasmine has completed school online and earned a certificate in Network Administration. She hopes to become a network administrator, and maybe someday a hacker. She also got a job at a fast food restaurant nearby. Overall, she and her children are thankful for their time at Pathways. Thanks to the resources she found here, they will soon have a place of their own again.
Jasmine concludes her story with this: "Today I'm leaving to go see apartment complexes that I've heard good things about. I can get back on my feet there because rent is based on your income. I'm grateful for this place because I wouldn't have been able to get a job or finish school if I wasn't here. I tell a lot of people about the program -- that it's real good, especially for families. You'll be able to help yourself, and that will help your children. It's like a real family."
We hope to open Pathways Childcare in early 2020 to help mothers like Jasmine and children like Landon and Logan, but we need your help. To donate to the childcare program, click here.