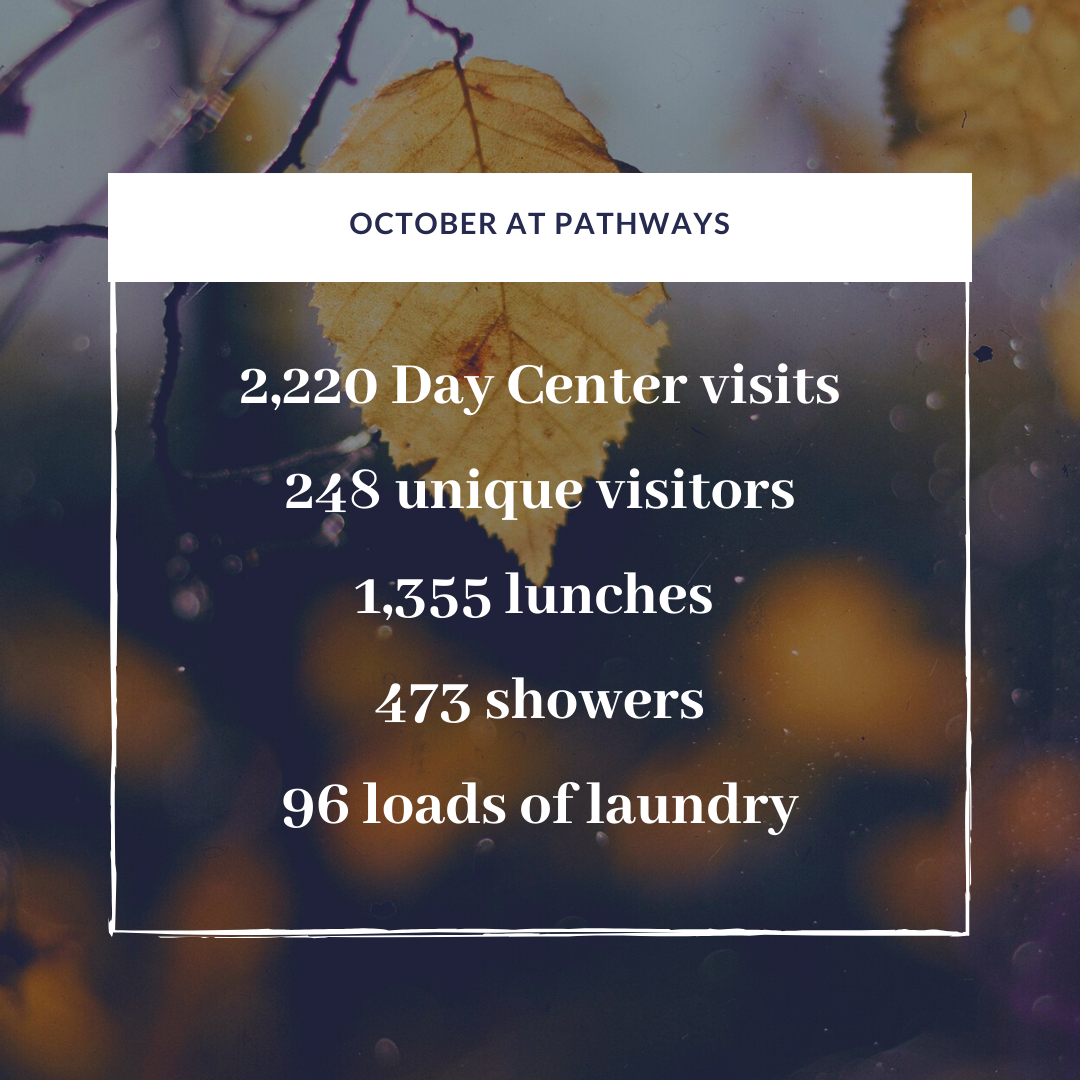 Day Center Services: Restoring Dignity
Imagine sleeping outside in the cold. Imagine making a bed for yourself on some old, damp cardboard or muddy patch of sidewalk. You want nothing more than clean clothes and a hot shower. At Pathways Day Center, you can have them.
We helped 248 homeless women and kids take 473 showers and do 96 loads of laundry in October. In our own homes, it's easy to take these basic services for granted. Yet they make an incredible difference in the lives of women experiencing homelessness. Feeling clean and smelling fresh does more than maintain good hygiene - it restores dignity.
Clothes Closet Updates
The Clothes Closet is another Pathways service that restores dignity and hope to homeless women. In the first week of October, a group of high school students from the Alabama School of Fine Arts came to Pathways for their annual service day. With their help, we gave our Clothes Closet a makeover! With new racks, lights, shelves, and organization, the closet reopened on October 10 and was a big hit! 
Sixty women received clothing, underwear, shoes, and blankets from Pathways Clothes Closet in October. The J Jill stores in the Summit and the Galleria held their semiannual donation drive for Pathways, bringing 12 boxes of gently used clothing to stock our racks. 
One newly homeless woman visited the Clothes Closet for the first time in October. After showering and putting on her new clothes and shoes, she came back in to admire herself in the mirror and said, "I feel normal again." 
You can volunteer in the Clothes Closet on Tuesdays and Thursdays from 2-3 pm. Click here to sign up. 
Halloween at Pathways
Pathways' second annual guest trick-or-treat was a great success! Visitors to Pathways Day Center and residents of the shelter programs had a blast trick-or-treating through the halls of Pathways. Each staff member had a bowl of candy in their office, and several were in costume! This trick or treating wasn't just for the kids - the grown-ups loved collecting candy too. It was a fun way to provide hope and a little something sweet as a respite from the realities of homelessness for our ladies. Look on our Facebook page for photos!
Thank You Volunteers!
In October, our volunteers helped to serve 1,355 lunches. Weekly volunteers from BBVA Compass and Regions were a huge help! Students from the Alabama School of Fine Arts enjoyed serving lunch on their service day, and Guiding Light Church and Living Waters Ministries brought and served meals. If you are interested in bringing a meal or volunteering to help serve, fill out the form on our website.