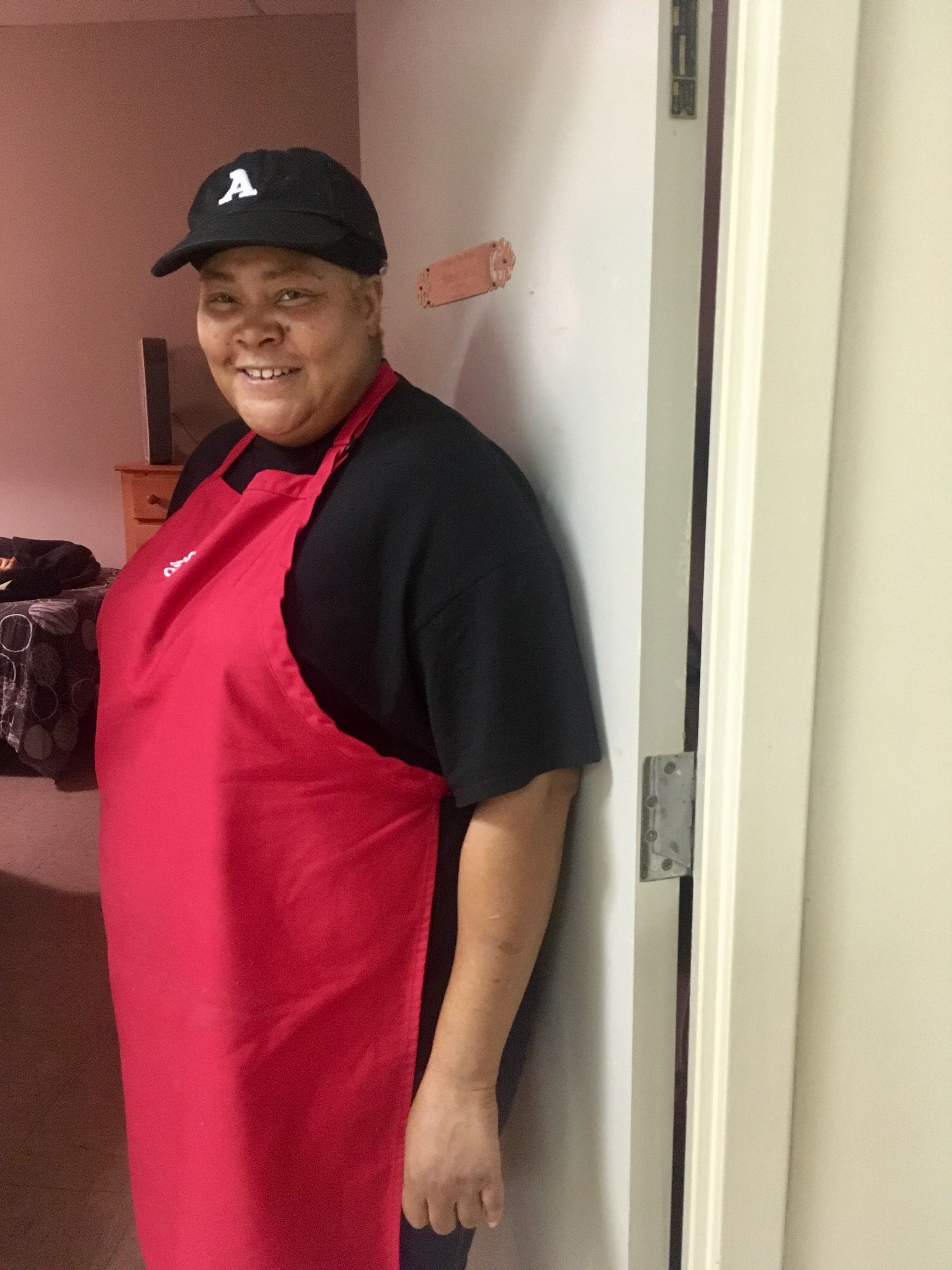 Fresh from a long day of work, Roteasha apologizes for smelling like beef but can't stop gushing about her love for her job. For the past two months, she has worked as a cashier at Arby's. She says she has the best job in the world.
Most people would never imagine that the employee who hands them their food through the drive through window stays in a homeless shelter, but Roteasha is one of several women in Pathways' shelter programs who go to work every day in restaurants, grocery stores, and businesses around Birmingham.
Roteasha says that having a job makes her feel like she is finally "getting all my puzzle pieces back together." Although she has been homeless for nearly 2 years, Roteasha is a graduate of Woodlawn High School and UAB's nursing program. She used to have a good job in the trauma unit. Like many women who come to Pathways, she says it was a family tragedy that triggered the loss of her stable life – when her 3-year-old son passed away from Leukemia.
Looking back on her first days without a home, Roteasha remembers:
"When I first became homeless, I was scared. Didn't know which way to go. Didn't know what to expect. Sometimes you hear these horror stories as far as how dangerous these shelters can be, and that worried me a lot. But all in all, my experience with the shelters has been a good one."
She found her way to First Light, and from there, she was referred to Stepping Stones, a new shelter program that recently opened here at Pathways. Stepping Stones is a transitional housing program in the upstairs of Pathways' building where single women or women with children can stay for up to nine months while working with Pathways' staff to break down the barriers separating them from economic security and permanent housing. Roteasha moved into Stepping Stones in April, and she has already made progress on all of the goals she set when she arrived, including finding a job.
Roteasha says the best part about working at Arby's is the people:
"The girls there, and the managers, they get along well with me. They know that I'm here in the shelter, so they work around my schedule so I can keep my place here, because I want it. They understand their employees, and I like that. Sometimes we don't need a boss, we need someone who understands our situation. I've been at Arby's two months now. It's a start, and I like it."
Now, Roteasha is almost ready to move out of the shelter and into her own home. With the help of Pathways' partner organizations, One Roof and JBS, she received a Shelter Plus Care voucher that will provide rent assistance and supportive services after she moves to an apartment. The Stepping Stones program and social worker Sineka Holmes provided Roteasha with the support, encouragement, and time she needed to "put the puzzle pieces back together" and start a new path out of homelessness:
 "I'm thankful for Pathways because I got back on my feet and on the right track. I got my medication whenever I need it. I got my Sheltercare Plus voucher, I'm working again, and oh, I love Ms. Sineka! My social worker is the best social worker. She's more like one of our friends. And I like that. We don't need somebody constantly riding our back. We need somebody who will support us and help guide us in our goals and what we want to get done while we are here. I've done everything on my list that I want to accomplish so far!"