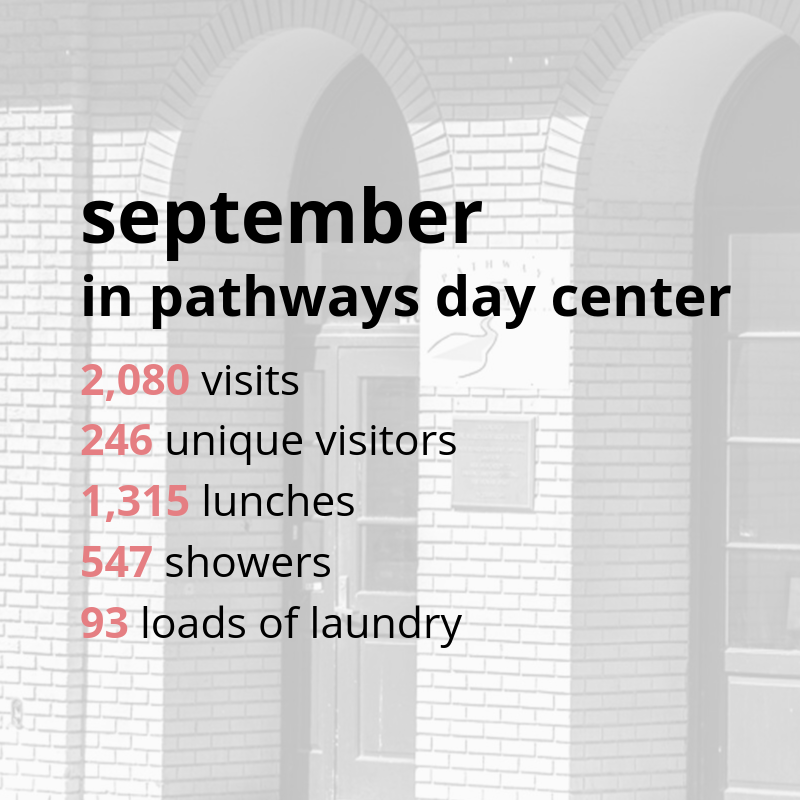 As we welcome the month of October at Pathways, we look forward to cooler weather and back on a month of record-high temperatures! Our Day Center offers a respite from the summer heat for women and children who sleep outside, and this month we welcomed 246 women and children experiencing homelessness to come inside and find hospitality and hope.
Our Day Center is a place where any homeless woman or child can spend the daytime hours and receive services. About one-third of the women sleep outside, and the other two-thirds come from area shelters that close during the day.
This September, 246 women and children visited Pathways Day Center a total of 2,080 times - that's about 70 visitors each day!  Included in that number were 8 mothers with 22 children under the age of 18.
The women and children in the Day Center received 1,315 hot lunches. Volunteers from Regions and BBVA Compass helped to serve lunch each week. Special thanks to the Redmont Hotel, House of Light Church, and Living Waters Ministries, who prepared, brought, and served delicious meals in September.
The Day Center offered a variety of educational classes, including a class on Opioids by the UAB School of Public Health and weekly "Chair Yoga."  One of our volunteers introduced a weekly Bingo game on Thursday afternoons, which has quickly become a popular tradition! Day Center visitors also took 547 showers and did 93 loads of laundry in September!
Pathways wrapped up the month with a fresh coat of paint in our office spaces and clothes closet thanks to volunteers from Huie Fernambucq & Stewart, LLP. The volunteers also cleaned and reorganized our childcare rooms and brought a much-needed donation of new bras and panties for the clothes closet. This great group worked hard all day and also provided a delicious pizza lunch for Pathways guests!