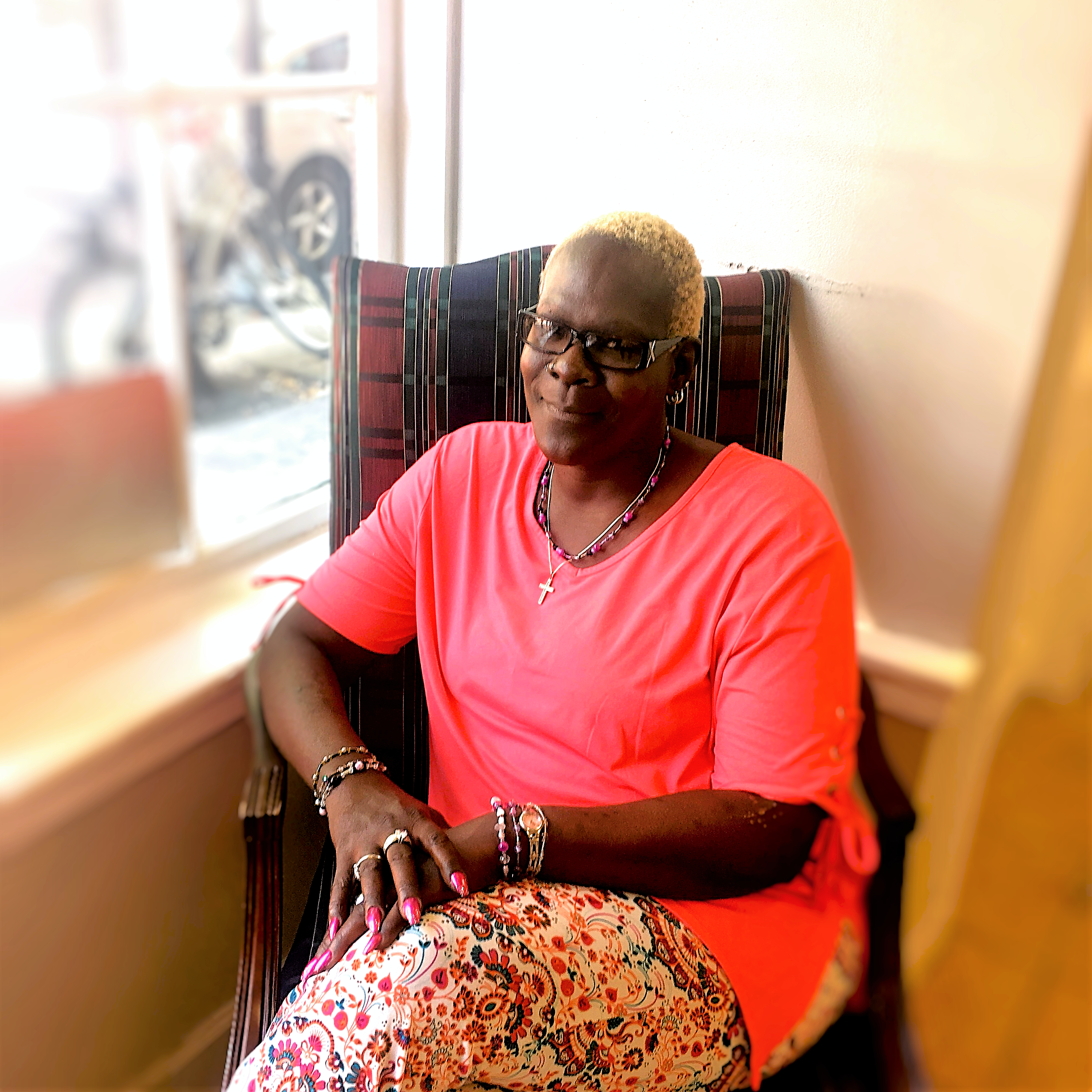 As a girl growing up in Cincinnati, Ohio, Lynda always looked forward to trips to her father's hometown of Tuscaloosa. She thought she would like to live in the South. After his death in 2011, she decided the best way to honor his memory would be to make that dream a reality, so she packed her bags and set out for Alabama. She says being in the south makes her feel "a little closer to his spirit." But it hasn't been an easy journey.
Back in Ohio, Lynda once worked for a homeless shelter. But, when she arrived in Tuscaloosa, she was homeless herself, without connections to the city or money to pay for a place to stay.  She soon discovered that the waiting time for permanent housing programs in Tuscaloosa was over two years. It was hope of a shorter wait list that brought her to Birmingham, where she sought shelter at the Salvation Army.
When it closed its doors each morning, the Salvation Army sent its emergency shelter guests to take advantage of the Day Center's services. That was Lynda's first introduction to Pathways:
"They would bring us here and we would be able to eat lunch and get clothes, that type of thing. I went through case management, here, and I qualified for Safe Haven."
Lynda stayed at Pathways' Safe Haven program for two months in 2011, during which time she had access to a social worker and supportive mental health services. Then, she decided it was time to return to Ohio.
Over the next several years, she continued to struggle with drug and alcohol addiction, mental health issues, and housing insecurity. She moved around a lot:
"If I got tired of one place I just got up and moved somewhere else. But, the last 2 times I moved, it wasn't by choice, I had to."
In October 2018, Lynda got the terrible news that her 25-year-old daughter had died. She moved to Minnesota, where her daughter had lived, for a few months to handle the arrangements. It was this tragedy that Lynda says pushed her to change her own story:
"I know what it's like to want to get out and can't get out. I know what it feels like to feel trapped. When my daughter died, her death took me to a very dark place, and for a year I felt trapped. My story consists of God, that's the only way I could have come out of it, because of him, giving me a second chance."
In April, Lynda returned to Birmingham and found shelter at First Light, where she currently sleeps at night. During the day, she is back at Pathways' Day Center:
"I come to Pathways to use the computers, to charge my phone, to eat lunch, get clothes, and basically like network...to different places that are accessible to someone that's homeless that's looking for areas as far as health, mental issues, to find out where these different organizations are. For someone like me who's never been in the area, this is a good place to get resources."
With the help of Pathways' case management service, Lynda was connected with JBS Mental Health Authority and approved for an apartment. She will move in September 1, and this time, she hopes to stay.
Lynda's dream is to start a nonprofit of her own in her daughter's honor. Until then, she plans to use her life experiences to help other women in situations like hers:
"I try to be a positive person, to let them know that you can come off of drugs and alcohol. You don't have to live the life that you're in...Even on my bad days, I try my best to get out of me, to help someone else... For me, the only way that you can help someone is if you've been there and walked in their shoes and felt their pain. It's not something you can learn out of a book. And some things are still mind blowing to me. A lot of people choose to keep living the life they're living, and then you have some that want to change and don't know how to go about asking for help. I haven't experienced everything...I'm thankful to God that it didn't take me to go to that extreme. He just knocked on my door and said, 'Hey, wake up.'"