Heart & Home Society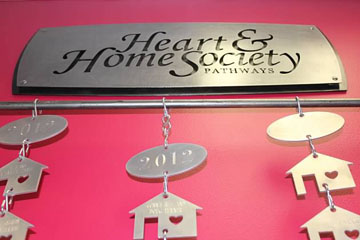 You are cordially invited to become a member of Pathways' Heart & Home Society.
Individuals who contribute $1,000 or more each year (or $500 with company match) are recognized as members of the Heart & Home Society. Members will be honored at a recognition dinner to be held later this year.
Members are also recognized on a plaque commissioned by local iron artist Justin Cordes that is permanently on display in the lobby of Pathways' downtown location.
Past Pathways and Bread and Roses Executive DirectorsConnie Hill and Sharon Fenstermaker, are serving as this year's Honorary Chairs of the Heart & Home Society.
To support the Heart & Home Society you may either donate online at www.pathwayshome.org/donate or mail a check to Pathways, 409 Richard Arrington, Jr. Blvd N, Birmingham, AL 35203. We also accept gifts of stock.
The Heart & Home Society is a strong alliance of caring individuals dedicated to advancing Pathways' mission of ending homelessness for women and children through hospitality, housing, and hope.
Members of the 2012 and 2013 Heart & Home Society are:
Anne & Neal Berte
Martha & Earle Bidez
Dave & Merry Bise
Karen & Phil Carroll
Mr. & Mrs. Wiley H. Cooper, IV
Mr. & Mrs. Doug Davis/Aliant Bank
Robert Eckinger & Maibeth Porter
Shirley Fagan/O'Neal Steel
James & Sharon Fenstermaker
Dr. & Mrs. William R. Foster
UAB Administration
Nancy & Glenn Goedecke/Mayer Electric
Karen & David Griner
Mr. & Mrs. Jay Grinney
Kathryn & Raymond Harbert
in honor of Nancy Goedecke
Mr. Cedric & Dr. Marquita Hicks
Connie Hill & Doug Turner
Mr. & Mrs. Jonathan Kimerling
Greg & Kendall King
Mr. & Mrs. Kenneth Richard Langford
Mr. & Mrs. Benny M. LaRussa, Jr.
Charles & Cheryl Mayer
Mr. & Mrs. Fred McCallum, Jr./AT&T
Mr. Trey Moye
Mrs. Janice Parker
Sam & Claire Parker/Parker Consulting
Dr. Beth Phillips
Cindy & Brett Rayburn/Energen
Ed & Bee Robinson/HRH Metals
Mr. & Mrs. Freddie D. Robinson/
Robinson Fast Tax Service
Mr. James Rushton
Houston & Stephanie Smith
Mary Ann Smith-Janas/Marketry, Inc.
Ms. Corlette Stewart
Chris & Nikki Still
Mr. Sam Tortorici/Cadence Bank
Troy & Tricia Wallwork
We wish to thank the following individuals for also making a contribution in support of the Heart & Home Society:
Mr. and Mrs. Charles Collat, Sr.
Stewart Cox
Mr. Peter Falkner, II
The Frank and Fred Friedman Family Foundation
Ms. Ellyn Grady
Mr. and Mrs. T. Morris Hackney
Ms. Mary Hawn
Faye and Robert Levin
Mr. and Mrs. Michael Saag
Jack and Beth Schaeffer
Jonathan Miller and Judith Schulman-Miller
Houston and Stephanie Smith
Stephen and Louise Yoder
---