Programs
In February 2003, Bread and Roses and Birmingham PATH merged to form Pathways. Since the 1980s, these two organizations addressed the needs of the growing number of homeless women and children in the Birmingham metropolitan community. Pathways' target population continues to be homeless women and children. The agency offers a range of emergency, transitional and long-term services. Through its Downtown Day Center, the agency provides food, clothing, showers, laundry facilities and case management. Pathways operates transitional shelters at its Downtown and Woodlawn locations. For families that need more time to stabilize their incomes and repair credit, Pathways has apartments where families can stay for up to a year. The agency also offers a Safe Haven program, which provides a small, homelike environment and social services care for chronically homeless women.
Day Center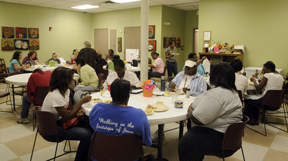 The Day Center provides for the basic needs of any homeless woman or child who visits the Center, including hot meals, showers, laundry facilities, and clothing. Beyond these services, many chronically homeless women need case management, substance abuse treatment or mental health care. Once these services have been obtained, these women are more likely to be candidates for transitional housing programs. Without on-going support, they are likely to remain homeless for extended periods of time.
---
Safe Haven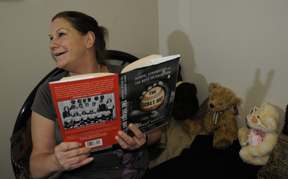 Pathways provides housing for chronically homeless women downtown at our Safe Haven program. Designed as a small, homelike setting, the program requires 24-hour staffing and case management. While residents are not required to participate in mental health or substance abuse services, it is the goal of the program that these residents will come to trust the system and accept the services they need. There is no time limit on Safe Haven residents' length of stay, but over time, some may be able to move into permanent housing with supportive services.
---
Transitional Shelter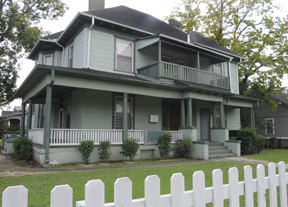 Pathways' Transitional Shelter provides shelter, food, clothing and supportive services for women and women with children who are temporarily without housing. Guests work on a Life Plan, structuring their week around goals. Guests discuss their needs and progress weekly with the social worker who helps them access community resources. On-site services provided regularly include healthy relationships, parenting, money management, etc. Last year, Pathways served more than 300 women and children through the Woodlawn and Parson Place (downtown) shelters.
---
Employment Readiness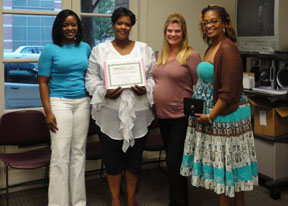 Pathways' Employment Readiness Program teaches women how to obtain and keep a job. The program focuses on self-esteem, motivation, basic computer skills and job search skills. Each session focuses on work- related topics such as resume writing, interviewing, working with others and maintaining a job. Learning to Be a Kid is the children's companion program to Employment Readiness and teaches homeless children about emotions, self-esteem and conflict resolution.
---
Learning to Be a Kid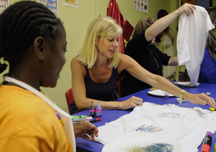 While mothers attend Employment Readiness, the children have a program of their own. LBK uses fun activities and crafts to focus on the special needs of homeless children. Topics include Attitude, Self-Esteem, Anger Management, Goals, and Kindness. Children learn how to deal with day-to-day situations and emotions through specialized games and arts and crafts. This program relies heavily on volunteers and the support we receive from Junior League of Birmingham.
---
Fiscally Fit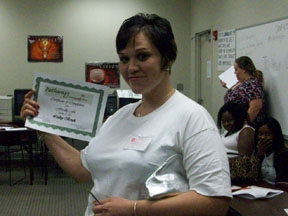 Pathways offers a financial literacy curriculum to all women and children in its shelters, as well as to women and children in other local shelters. This program provides the necessary tools of everyday budgeting, saving, and insurance. It is designed to provide simple techniques and steps that are easy to follow after leaving Pathways. This program is a more in- depth version of the budgeting support guests already receive from social workers. The children's program is essential to the success of the women's program, not only for childcare, but to impact a change that will shape each child's financial future as well.
---