Welcome to Pathways' blog. Here, you will find actual stories of the actual women and children whom we serve. You can see their faces. You can share in their hopes and dreams. You will also find posts about events happening at Pathways and how friends like you are making a difference. We hope you enjoy!
6-year-old foregoes birthday gifts to raise money for homeless
Posted on 07/13/2012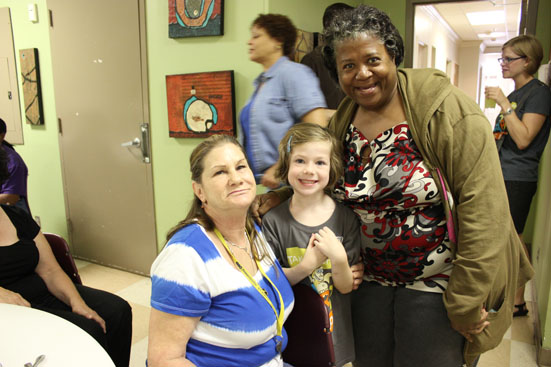 "I don't need all that stuff. I already have a lot of toys," she told her mother, Samantha.
So when they were making plans for Samantha's 6th birthday party, Morgan decided that instead of asking for presents, she would ask for money to give to children who don't have as much as she does. It was a pirate-themed party, and in lieu of pirate booty, they collected "treasure" for people in need.
Morgan raised $200 from her friends and family and decided to donate it to Pathways to help homeless children.
Morgan and her parents hand delivered the donation to Pathways on July 13, and Morgan had the opportunity to meet some of the homeless women who came to the Day Center that day for lunch. The ladies were delighted to hear Morgan's story and expressed their appreciation of her generous gift.
"We are very proud of Morgan, and touched by her empathy and generosity of spirit," her mom said.