Welcome to Pathways
Pathways is a United Way agency that serves homeless women and children. We provide a safe place to stay, clean clothes and hot meals. We also supply training and education programs to help both women and children transition back into the community. In short, Pathways is A Woman's Way Home.
---
Pathways' Blog
by Liz Hixson on 09/17/2014

I had a passion for helping those whose lives had been affected by poverty. However, I didn't realize how little I really knew about them or their situations. Here are just a few things I've learned over the past year.

by Liz Hixson on 07/30/2014

It all started in December of 2012 when 5 volunteers from the Treasury Department at Regions came to serve lunch in the Day Center.
---
Did you know we help women who had good jobs & college degrees? #homelessness #ItCanHappenToAnyone

http://t.co/ySzkiFVA6n

Here's a short, yet informative, article about #homelessness in our country. Are you surprised by any of these facts?

http://t.co/moUAeKDlho
Have Clothing To Donate?
You can drop off at 409 Richard Arrington Jr. Blvd. N. Monday-Friday.
Have other items you wish to donate? Check out our Wish List to see if we are in need!
---
E-newsletter Sign Up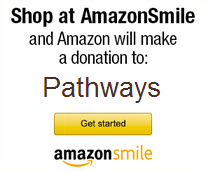 ---